When COVID-19 shut down the travel industry, the University was in the middle of a migration from the Legacy Travel system to the UTravel (Concur) system. Although regular University business travel is still restricted, there is work that should be done to clean up open trips and to prepare for new University Travel when we are able to travel again.
What you should be doing now:
Close all open Legacy trips, substantiate all pre-paid expenses
Allocate all open expenses in UTravel Concur by preparing and submitting expense reports
Apply for Arranger Travel Cards, where appropriate
Educate and encourage Travelers to apply for Individual Travel Cards, where appropriate
Review UTravel Concur procedures, as needed
Mid-November: "Register a Trip" Functionality to be Disabled in Legacy System
What does this mean? Any NEW trips will need to be completely dealt with in the UTravel Concur system. All open Legacy trips need to be closed so we can take the entire system down. We will disable the entire Legacy system in the upcoming months.
Don't worry… we are here to help in this transition. We have added an enhancement that allows us to mass import users to ease setup. We anticipate that travel volume will grow slowly and give us time to help each of our Arrangers learn to use the UTravel Concur system.
---
Introducing the University of Utah Travel Card Program!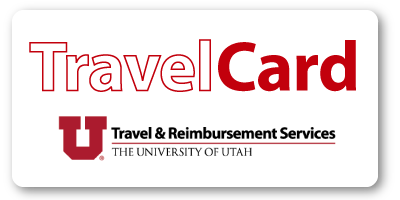 Travel Cards (TCards) can be obtained by Travelers or by Arrangers, with Supervisory and Central approval. TCards are meant to reduce out-of-pocket expenses for travelers and guests, as well as improve efficiency for planning departments. These cards are issued through our contract with JPMorgan, but are administered through the Travel & Reimbursement Services department. The TCard page requires authentication.
Expenses charged to a TCard are allocated by the cardholder on an expense report in Concur within 30 days.
Arranger expense reports do not generate a travel fee charged to the department. Traveler expense reports to allocate airfare and reimburse out-of-pocket expenses like per diem will continue to generate travel fees used to fund our office.
To find out more, please visit the Travel Card webpage here. (Requires authentication.)
---
Stay tuned! More information about Travel System changes will be posted in the upcoming weeks: