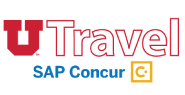 The new optimized UTravel Concur site is now available for online travel booking and submitting requests/reports.
What's changed
Request and Report Headers were updated to reduce data entry and provide flexibility for GL Account coding
Expense Types updated to align with Utah Travel Policy
What you need to know
If you don't see your expense report, or if you see an error in your expense report, please be patient as we finish with system cleanup. This should be finished by December 22.
Helpful resources
Drop-in Teams Sessions – Available in January 
Request or Expense Questions : travel_questions@utah.edu

 | (801) 581-7142 | Mon-Fri 8:00 – 5:00 MT

Travel Booking: travel@admin.utah.edu

 | (801) 587-9005 | Mon-Fri 8:00 – 4:30 MT.

Travel Booking Emergency After-Hours

: (888) 739-7011
Darrin Robertson,
Associate Director – Travel & Reimbursement Services