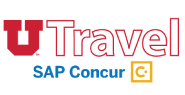 Welcome back to campus! In case you haven't heard, this Spring, UTravel Concur will replace the old paper-based travel system. Approximately 35% of all University travel is currently being processed in UTravel Concur.
NOTE: Effective Friday, May 22, 2020, all employee travel must be registered in the new Concur system. The legacy system will not allow users to register a trip with a depart date past May 22.
UTravel Concur is a mobile-ready, paperless system where approvals route electronically like ePR and UShop. Significant improvements in system efficiency means that your travel reimbursements will be processed more quickly, and with much less effort from travelers and travel planners. Departments are able to track the progress of their expense report, and travelers can help prepare their expense reports by using their mobile device to capture receipts before they return from the trip.
Travel & Reimbursement Services has updated the UTravel Concur training materials and has posted more in-person travel arranger trainings for the next three months. We encourage departments not yet using Concur to make plans to beat the rush and convert their Spring travel to the new system.
Please let us know how we can help! Use our Ask Us form.
Are you a travel arranger and need to register for Concur training? Follow this link to sign up.
Have you seen our Frequently Asked Questions page? Check it out!
---
UTravel Reference Materials | Ask Us | Training Registration