Beginning November 20, 2014, Travel System users will notice several enhancements to Travel system "forms" and the Travel Services website: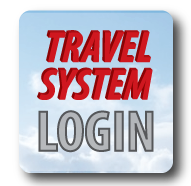 The most notable change will allow users to login to our system from the Travel Services home page!  Look for the button shown here to link Travel Planners directly to the CAS certification login, or if already logged into other CAS certified sites, users will connect directly to the Travel System without an additional login.
Users will no longer get "Invalid Login" alerts due to time-out issues.
NOTE: Users that try to access the Travel System from CIS will be redirected to the Travel Services home page.  The "Travel System Login" button should be used to login to the Travel System.  We will remove the "Travel" link within CIS after December 31, 2014.

NEXT-DAY FEES: We are excited to introduce enhancements to eliminate the necessity of paper Campus Order forms to pay the expedite fee for a next-day check.  Our system will now ask the Travel Planner if the reimbursement or prepayment should be processed for next-day service. If yes, the next-day fee will be paid as part of the prepayment or reimbursement, so paper forms will no longer be necessary.  Department personnel will only have to sign one form.
ACH travelers can request a next-day reimbursement for $8, while non-ACH payments will remain at the $12 fee.  Also new in our system: next-day fees can be paid by either the traveler or the department on all payments.  The system will help guide users through these questions.
The Cash Advance prepayment form has also been changed to allow 4 chart field strings, and has been enhanced to include names and positions of those who will be signing the form.  All Cash Advances will now be processed as a payment to the Traveler.

We appreciate feedback from our customers and try to enhance our system in ways that improve our users' experience.  Please share your ideas.