Purchasing, along with General Stores and Receiving, have been partnering to source scarce PPE and sanitizer items for departmental purchase. Currently stocked are: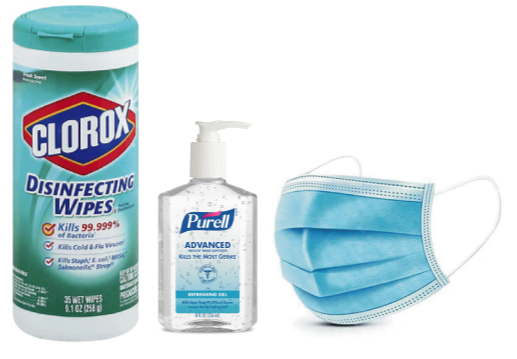 Hand Sanitizer – sizes 4 oz to 1 gal
Disinfecting wipes and sprays
Procedure masks
Face covering, reusable
Face shields
Nitrile gloves
Touchless thermometers
Other PPE related supplies
We anticipate that many of these items will continue to be in short supply with wildly varied pricing and will have vendor allocations this year. Multiple buyers have worked tirelessly to obtain the best prices currently available.
Prior to returning to campus, we recommend that you order soon or during July to allow for allocations or items temporarily out of stock.  
For orders placed with General Stores, please ensure someone is available to receive orders in your department or place the order for WILL CALL at General Stores. WILL CALL orders should be picked up within 5 days of order.
Please contact General Stores directly if you would like to place an order.  Some items may not currently be available; however, we will actively source and fill orders as soon as possible.  If there are PPE items you would like to purchase that aren't currently stocked, please call to discuss.
General Stores Contact Information:
New Face Coverings Contracts and Procedure Masks
The University has options available for the purchase of reusable face coverings and procedure masks.
General Stores has both reusable face coverings and disposable 3 ply procedure masks in stock and available for purchase by departments. Campus Store has face coverings available for retail sale.
There are new university wide multiple award contracts available to order reusable face coverings with or without logos.
Available face coverings have ear loops or ties, are washable a minimum of 25 times, have a minimum of 2 layers, and include a variety of sizes.
The vendors awarded in the logo category are compliant with CLC licensing regulations.
Vendors awarded have price breaks for large quantity orders and established lead times.
Please visit the contract directory and look for the icon titled 'Face Coverings' or contact the contract manager for more detailed information. 
Patti Service: pservice@purchasing.utah.edu, 801-587-3894
LOGO Face Coverings – BSN Sports, Kotis Design, and 007 Marketing.
Non-Logo Face Coverings – Kotis Design, Kalci Soccer LLC, 007 Marketing, LXG Inc., and RN Wellness.
Facilities Hygiene FAQs
The FAQs provided by Facilities identify several hygiene topics and provide guidance on what service custodians will provide, what is being asked of everyone, and how to get help if there are concerns.