What is new?
The process for creating and renewing real property leases has been transformed from a paper-based process to a paperless process that is initiated through UShop.
Please read our quick reference guide on creating and renewing your real property lease(s), and if you have any questions please feel free to call the Purchasing office at 801-581-7241 or by sending an email to askme@purchasing.utah.edu.
How do I access this new lease process?
The Real Property Lease form can be accessed in the uPurchases section of the UShop Marketplace, see below.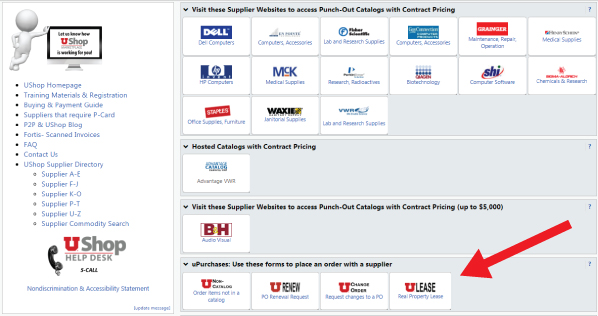 How can I get access to UShop?
If you haven't been introduced to UShop until now there are several ways you can get to know this new e-procurement system. To learn more you can visit the UShop website. All new users to UShop will be required to complete training. You may choose to either complete online tutorials or attend in-classroom training. You may find all of your training resources on the UShop Training Page. Users may also access  many UShop reference materials to learn more about maximizing the many benefits of the system.
Once you have completed training and your UShop role has been activated, you may log into UShop with your uNID and CIS password to create your requisitions online. If you have completed training and still have questions working in the system, we have additional training resources available to you. UShop Hands-on Help and Q&A sessions are held from 1:00-2:30 on Tuesdays in the Park Building and Wednesdays in the Annex Building. Click here to register for Hands-On Help and Q&A.