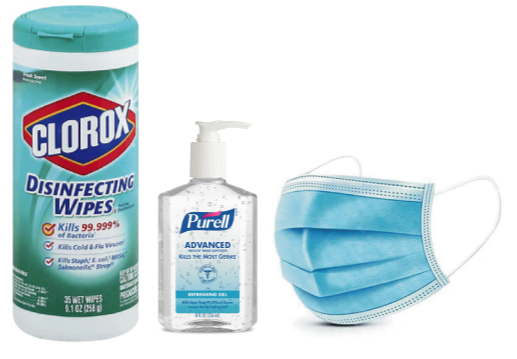 As the beginning of the Fall Semester is quickly approaching, we suggest taking stock of the PPE and sanitization supplies you may need.  With continuing COVID cases, the need for hand sanitizer and normal cleaning supplies are necessary.  We have been told that surface cleaning is important but not necessarily sanitization.  General Stores is well stocked and there are currently no ordering restrictions or allocations except for some nitrile medical exam gloves.
Over the past 18 months, Purchasing and General Stores have been partnering to source PPE and sanitizer items for departmental and clinic purchases. While you are stocking up on PPE as needed, don't forget to order your office and classroom supplies as well.
Please contact General Stores directly to place an order. If there are PPE items you would like to purchase that aren't currently stocked, please call and we will be happy to help you. If you require large quantities of masks, gloves, sanitizer, etc., please let us know so we can work with our vendors to get those to you as timely as possible.
Welcome back to those who are returning to campus. 

Ordering Email:  csr@stores.utah.edu | Website | Phone: 801-581-8671