The Evidence of Review application was launched a year ago. Many on campus have used EOR to show "evidence" that they have reviewed their monthly financial statements. Several departments have given some excellent feedback. We reviewed your feedback and implemented some awesome enhancements to the EOR application. Thank you for your feedback; keep it coming!

The latest Enhancements to the Evidence of Review applications are:
Search by PI in addition to Account Executive for Projects.
Only see the excel icon for download if there has been at least one row selected. The icon is now more visible.
Account Executive, Org, Fund, and Activity/Project are now filterable (entry boxes under the columnar headings).
The PDF bundles for all selected Activities/Projects can either be sent in a single email (the way it currently works) or one email per Activity/Project.
There is a "Select Range" button that allows a block of rows to be selected. Just click the first and the last row, and then click the button!
The various buttons that are currently only at the bottom are now available via a context menu which will appear on a "right click" of the mouse. 

See the image below for the menu that appears on a "right click" of the mouse.
Note: the "right click" of the mouse will only work once the report has been run.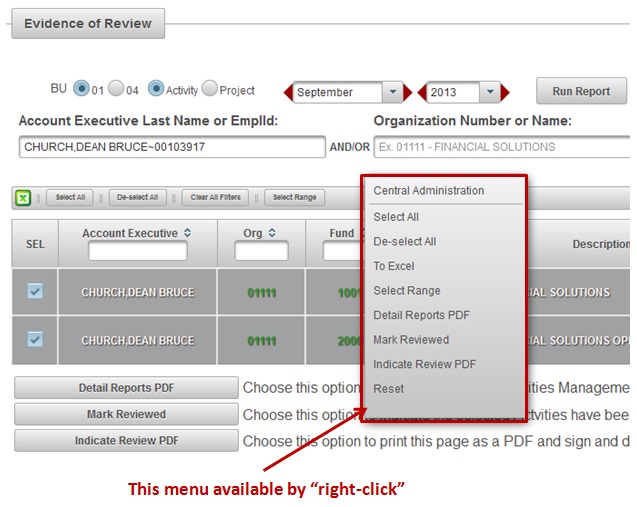 Please visit the EOR help web page to learn more:

Please ASK US if you have any questions.