The second session of the Orientation for Principal Investigators and Business Officers was recorded on Video.
Click the image below to access the video.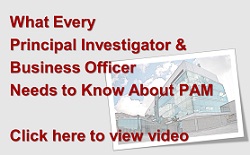 To learn more about Project Administration Management (PAM), visit Financial Changes Coming.  This page will have the latest updates about upcoming changes.

Please ASK US if you have any questions.