Grants Implementation Training Opportunities
Over the past year many staff members have been involved in the Project Administration and Management (PAM) Program. This campus initiative is striving to review and implement post-award accounting and management tools available to researchers, staff, and administrators with the primary goal of decreasing the administrative burden on researchers. Visit PAM website for updated information.
Our PAM Goals are to:
Provide high quality support to researchers
Facilitate and enable the growth of research
Evoke a culture of compliance
Establish a means for accurate decision-making.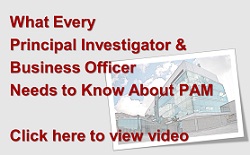 Orientation for Principal Investigators and Business Officers
Click here  for outline of the training session.  You are not required to sign up to attend a session.
This training will include all the changes and updates involved with the PAM (Projects Administration & Management) Project, and the PeopleSoft Grants Implementation. It will include organization changes, new financial reports, and new business processes.