Purchasing Department, Purchasing Card and UShop
Due to the construction in the Park Building caused by flooding, the entrances to the Purchasing Department will be limited to the ADA ramps and stairs located on the southeast and northeast side of the building. The more commonly used doors facing north, south and west (west side of the building) are not available. Purchasing is still in the same location. Elevators are still accessible to and from the first floor. Another notice will be sent when conditions change. Thank you for your patience.
Purchasing Department
201 S Presidents Circle, Rm 170
801-581-7241
---
Accounts Payable
As indicated in prior communications, due to the Park Building flood that occurred in July, Accounts Payable has relocated temporarily and a new "main entrance" has been established at 160C Park at the bottom of the ADA accessibility ramps on the South side of the Park Building. Using this new entrance is especially critical now that many of the 1st floor entrances to the Park Building are blocked due to construction. The most direct way to AP's front desk is from the outside entranced circled in the map below. Thank you for your patience during this unexpected transition!
Accounts Payable
201 S Presidents Circle, Rm 160C
801-581-6976
---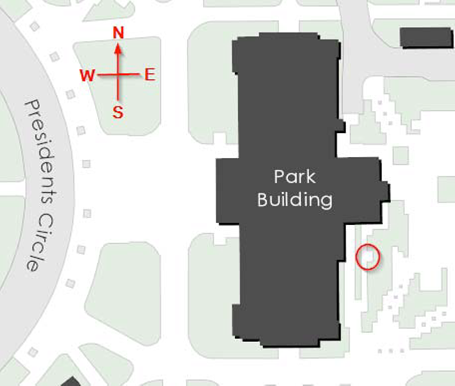 Please ASK US if you have any questions.