We've enabled the purchase of gift cards for Nutrition Care Services in UShop to replace using the paper Campus Order.
How do I use UShop to make a purchase for NCS gift cards?
Log into UShop, and locate the NCS form.
Indicate the number of gift cards needed and the dollar amount(s).
Where can I find this new form?
The form is located on the Shopping Home Page in the "Place an Order" section.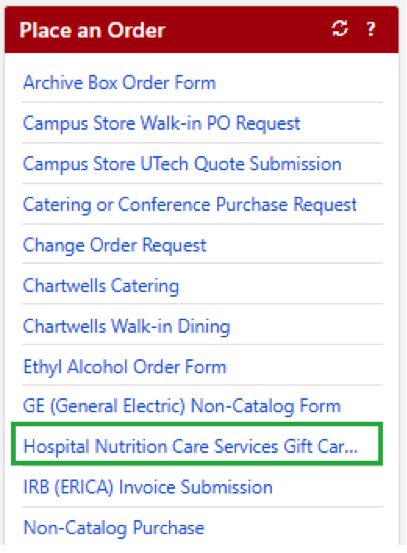 Click here for instructions on using the UShop form to purchase NCS gift cards.
NCS gift cards are valid at the following locations:
University Hospital Gift Shop
University Hospital Lobby Espresso
Hospital Cafeteria
Hospital Starbucks
Huntsman Gift Shop
Huntsman Cafeteria
Huntsman Starbucks
BSB Deli
Tower Deli
Midvalley Coffee Shop
Farmington Coffee Shop
*Note: Reporting to Tax Services of gift cards purchased for employees or research will not change. Your department is still required to report this information to Tax Services at the end of the calendar year.