Use UShop instead of a paper Campus Order at the Campus Store.
As part of the Campus Order elimination project, we have enabled the Campus Store in UShop.
Two new forms are available.
Campus Store Print & Carry PO Request — use this form for in-store walk-in purchases, including the Post Office.
UTech Quote Submission — use this form to upload a quote from UTech.
Where can I find these new forms?
The forms are located on the Shopping Home Page in the "Place an Order" section.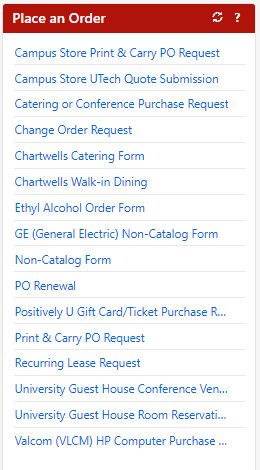 Click here for instructions on using the Print & Carry form.
Click here for instructions on using the UTech Quote form.
Benefits to using UShop vs. paper Campus Order or PCard
This new ordering process doesn't require keeping receipts or any type of reallocation.
Utilizes approval based on GFA and electronic workflow, like all UShop orders.
Orders are received and processed quickly, with a link in Management Reports for easy tracking.
Campus Store will handle timely billing of each order – no more waiting for a Campus Order to process!
No more paper Campus Order copies to manage or sign.