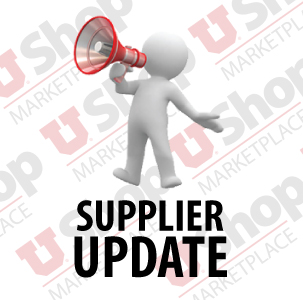 Supplier Report Date: 09/03/2015
323 total suppliers available in UShop
43 of these suppliers are contracted suppliers
$3,025,821 total dollars spent in UShop during August 2015
We are trying to consolidate as much University Purchasing to occur within the UShop Marketplace to:
Maximize the speed and efficiency of transactions

Realize the benefits of our consolidated purchasing power.
As the University consolidates all procurement to UShop, we strive to make available all appropriate suppliers to our University Shoppers.
To meet our objectives, requests for spend on new suppliers may be redirected to use of our existing contracted suppliers.
We will periodically report on the addition of new and important suppliers as UShop continues to expand.
Thank you for your continued support!