The deadline for paper Payment Requests for Non-Travel Employee Reimbursements is tomorrow, March 31. Beginning Monday, April 3, employees will be required to use the ePR system for non-travel reimbursements. NOTE: this deadline is for non-travel Employee Reimbursements ONLY. Deadlines for other payment types will follow over the next few months.
If you need access to ePR, please complete the required training process.
This system has been developed specifically for the University of Utah, and will continue to grow as we continue to eliminate paper Payment Requests. User feedback is an important piece in the development, and we encourage users to continue to tell us how ePR is working. Below are some quick tips for using ePR based on user feedback:
• The Payee is required to approve the request before it can move any further. The Payee is notified by email, which will contain a link to approve. Make sure your preferred email address is current in CIS to avoid any problems, as this is the email address ePR uses for notifications. For new users, these messages could end up in your Junk folder – so be sure to check and make the necessary changes to email settings.
• You can choose which GFA approvers will receive the email notifications while it moves through workflow. This is done by adding an approver and selecting the "GFA Email Override" option from the Approval Type list. Once this is done, only the selected approvers will receive the notifications in their email.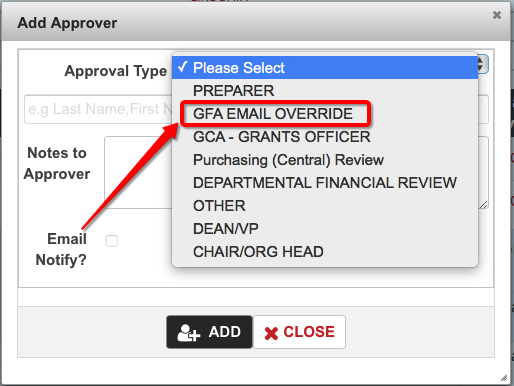 • In the Approval Sequence, A/P Pre-Approval happens in central administration. This step is where we audit the reimbursement to University policy and will notify the requestor of any errors or missing items. A/P Final Review happens in central administration after everyone has approved the reimbursement. After all workflow steps are complete, the request cannot be changed.
• Clicking on Functions ->Validate, will show you what is missing and/or required before submission.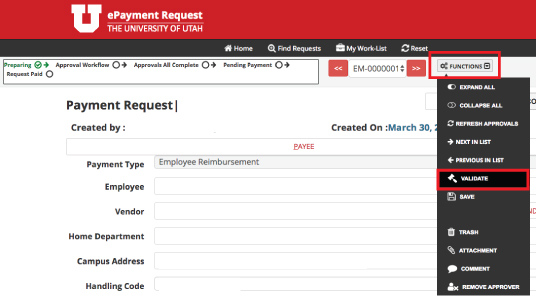 • When entering information in the AD Shortcut, avoid using the tab button – the system is designed for key ahead look-up, and tabbing in and out of this field disables the look-up functionality.
• Due to the University's security policy, dual authentication is required to for logging into ePR. Some users have reported that their processes "freeze" or stop loading after having the window open for a certain amount of time. If this happens, please click Home and see if you need to re-login to complete the process. ePR is saving your progress each time the "next" button is selected.