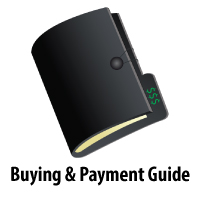 The "Buying & Payment Guide" is a document that has existed for some time, and has been effective in helping you decide which "tool" in your toolbox should be used in procuring and paying for supplies and services.

With the advent of UShop, and most recently, the electronic Payment Request (ePR) we have revamped this document to make it more current and useful.  Our intent is for you to use this document whenever you are contemplating a purchase or a payment.  
The guide comes in two parts: 
The guide itself (a detailed 8-page document listing most types of payment categories), and

A guide summary (a 2-page document that spells out the types of purchases appropriate for each payment method). 
See the Buying and Payment Guide here
The guide is a very detailed document, and may require a bit of patience in interpreting it, but everything is there.  We've provided two columns to distinguish the considerations needed for an "under $5,000" purchase vs. an "over $5,000" purchase.  We've also provided codes to indicate:
Best—Signifies the best payment method available.  Best payment methods should always be favored for processing.

A—Allowable payment method.  There may be one or more allowable payment method(s) for a payment category.  Allowable payment methods are preferred, except in instances where a "Best" method is indicated.

Sole—The method outlined is the ONLY method allowed.
🚫 —This method is prohibited by policy for the instance outlined.

! —Method is acceptable but is not the most efficient or most cost effective method.  Users are encouraged to use preferred methods and support P2P objectives of low contracted pricing, more efficient processes, and consistent transparency.
The "Buying & Payment Guide" is authoritative and is meant to be a reference tool for all purchases and payments.  As such, it will be part of the Regulations Library of the University.  Please make its regular use part of your business practices.  We expect it to be used extensively, but also recognize that it can be improved, and will need to be revised from time to time.  We welcome your suggestions for improving the document.  If you have questions, you can always ASK US. 
The "Buying & Payment Guide" is easily accessible on the Accounts Payable and Purchasing web pages, as well as the Resources tab on the FBS homepage.