So you've been trained on UTravel (Concur) – Now what?
You should reach out to Nyia Hanseen to make sure that all your travelers have been flagged to indicate that they are UTravel users. We recommend that all travelers be switched immediately – there are adequate materials to support conversion to the new system.
NOTE: Once your travelers have been flagged as UTravel users – ALL airfare booked with agents will become a UTravel expense that must be substantiated with a UTravel expense report (upon return from the trip).
Make sure your approvers know what to do when they receive a notification to approve an expense report from UTravel. (see Approver Guides at the site below)
Reference Guides can be found here.
To navigate to UTravel Resources on our web page, use the UTravel tile: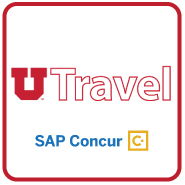 Resources such as Reference Materials can be found there