Effective July 1, 2016, "Group Travel" is a new category of university trips.
If your department is sending 10 or more people on the same identical itinerary, then it is considered an instance of "Group Travel."  These instances, which are relatively rare, should be registered as one trip with one travel number: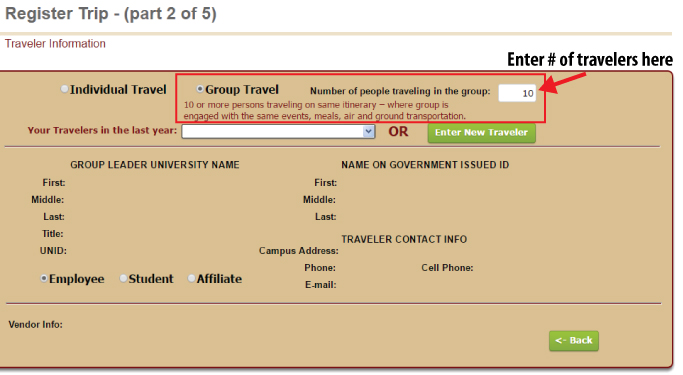 NOTE: Airlines require, when 10 or more seats are purchased, that our agents use group booking procedures.  Our agents are able to negotiate beneficial pricing and conditions for a Group Reservation.
Departments will be charged fees based upon the size of the group. Please refer to the  table below, which is also posted on the Schedule Of Allowable Rates.
Travel Services – Fee Schedule:
Red text represents new fees, effective July 1, 2016.  Black text refers to fees that have been traditionally charged to departments when using our services.
Travel Service Fees – Effective July 1, 2016
Audit Fee (Per Travel #)
Individual
Group 10-25 Travelers
Group 26-50 Travelers
Group 51-99 Travelers
Group 100+ Travelers
In State Driving
$8.00

$10.00

$12.00

$14.00

$15.00

Domestic Trip
$12.00

$20.00

$22.00

$24.00

$25.00

International Trip
$20.00

$25.00

$30.00

$40.00

$50.00

Airfare Service Fees (Per Traveler)
Domestic Air Ticket – Non Refundable
–

$17.00

$15.00

$12.00

$10.00

Domestic Air Ticket – Refundable
$30.00
$30.00
$30.00
$30.00
$30.00
International Air Ticket – Refundable OR Non Refundable
$30.00
$30.00
$30.00
$30.00
$30.00