In the Concur system, is the Budget Approver for the activity/project/org solely the Responsible Person or are the GFA proxies/alternates included to be able to approve?
Budget Approval for the Expense Report will be automatically routed to the Account Executive (AE)/Principal Investigator (PI) of the funds, and their CONCUR delegate. Concur does not access GFA delegations. NOTE: the AE/PI may delegate their approval authority to one other person, which is named an 'Expense Delegate'. If an Expense Delegate is set up, the Expense Delegate will also get an email every time the approver gets an email and will be able to approve on behalf of the approver.

If you would like to delegate your signature authority for all travel reimbursements (or travel-related expenses) within the UTravel Concur system for Level 1, Level 2, Budget Approval, and Supervisor, please follow the instructions below:
• Go to your profile settings
• Click "Expense Delegates"
• Click "Add" to search for a delegate and click on their name once found
• Select "Can Approve" and "Receives Approval Emails"
• You can make the Expense Delegate temporary if needed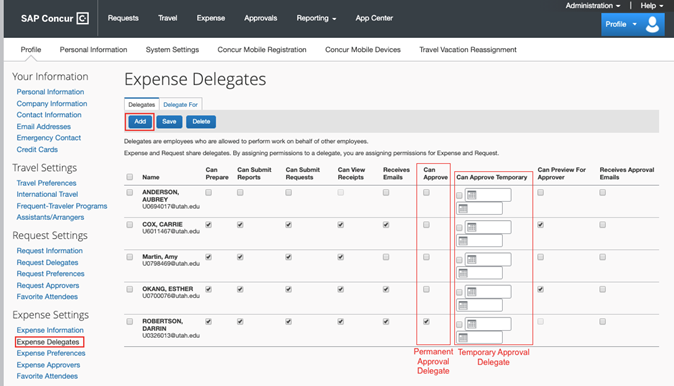 Once saved, this person is now able to Act on your behalf to approve.
Note: A person is not able to submit and approve an expense report, so we recommend keeping those duties separate.

This process is illustrated in the video below:
Click here to view media.