UTravel Home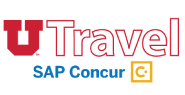 ---
UTravel is the new travel and expense system for the University of Utah powered by SAP Concur. All employees are encouraged to view the UTravel Concur online training. For additional training, please contact us. 
In UTravel, you are able to book domestic air, car, and hotel only. International airfare is not offered, however, international car and hotel bookings are offered. In order to book international airfare, please use our Onsite Travel Agency or fill out the Book a Trip form. For Group Travel, please use this form.
---
---
UTravel Frequently Asked Questions
---
New to your department? Need to add an additional traveler into Concur?
Submit the Concur User Setup Form here
---
---
---
Questions about UTravel? Ask us here!
---