Closing Legacy Trips
Please use the following procedure to close Legacy Trips:
1. Travel Arranger/Planner needs to login to Legacy system and produce a report of open trips to submit on this page.
To get a list of your open trips, you can go into the Legacy Travel site and run a query. Please go to Trip Data > Lookup Trip Data. Queries can be done by Org, Activity, project number, travel planner name, or employee ID (in case you have had some planners leave the department).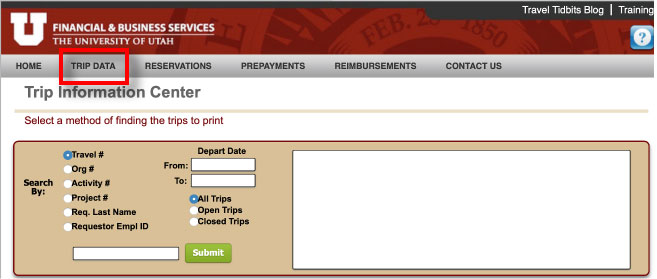 2. Travel Arranger/Planner needs to prepare template memo to be approved/signed and submitted on this page.
Prepare packet for submission to Travel & Reimbursement Services.
We will accept the approved memo attached to the open trip report, or a list of open trips
Approvals may be wet signatures, digitized by making the whole packet a PDF document
Approvals may be email approvals, digitized by making the whole packet a PDF document
3. Submit packet using this web form: