Signature Authorization Form is Going Paperless
Were you expecting the Signature Authorization Form when you clicked on this link?
Great News! The Signature Authorization Form is going paperless. It is called Granting Financial Authority.
What is Granting Financial Authority?
The Granting Financial Authority application is used to maintain who can authorize financial transactions for an Activity or Project. It also captures and maintains all the signatures for authorized individuals. It will be used by central administration to verify that financial transactions are authorized by the correct individuals. A help page has been created to help you learn more about it. Click here to visit the help page.
Some videos have been created to introduce Granting Financial Authority. Check them out!

To use the new Granting Financial Authority Click here. It is also available in the Processing section of the FS pagelet in CIS: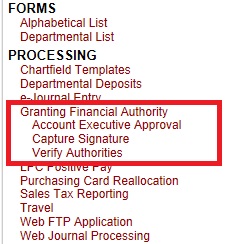 Please ASK US if you have any questions.