Asset Tags
Capital and Noncapital Asset Tag Changes
We would like to inform you of changes to tagging procedures for capital and noncapital assets due to the recent revision of Policy 3-041: Accountability for Noncapital Equipment. Property Accounting has acquired a new asset tracking software, RFTrack, that utilizes Radio Frequency Identification (RFID) tags to assist with the tracking of all your assets.  The scanners can read RFID signals and various types of barcodes.
Non-RFID Asset Tags
CAPITAL ASSETS – cost of $5,000 or greater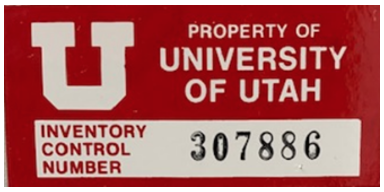 The current red Capital Asset Tags, (non-RFID), will continue to be used until your department migrates to the RFTrack inventory system. 
Current Red Capital Asset Tag
NONCAPITAL ASSETS – cost of $3,000 to $4,999 and computer equipment regardless of cost, maintain at the department level.
Policy 3-041, requires tracking of all noncapital university-owned computers, laptops, tablets and cell phones of any value that may contain Personally Identifiable Information (PII).  These noncapital computer related assets that are inventoried and tagged in systems such as UIT's ServiceNow, Fishbowl, etc., will not need a separate Property Department Black Barcode Tag or Yellow RFID Tag.
Departments whose IT assets are not tracked and inventoried in systems such as UIT's ServiceNow, can use RFTrack for these assets using the Black Barcode Tags or Yellow RFID Tags provided by Property Accounting.
Black Barcode Tags can also be used for to track other equipment less than $3,000, at the discretion of the departments, but not required by policy.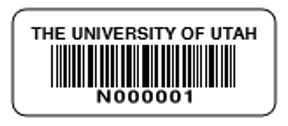 Noncapital Asset Tag
Black Barcode Tag (non-RFID) 1.25" x .5"           
---
New Capital and Noncapital Asset Tracking Software and RFID Asset Tags
The new capital and noncapital asset tracking software, RFTrack, using Radio Frequency Identification (RFID) tags will help automate your physical fixed asset inventories, locate missing equipment and track location movement.  These RFID tags includes a chip and 2D barcode so that performing your physical inventories will speed up to 15-20 times faster using a RFID scanner loaned from the Property Accounting Office.
Due to COVID, the RFTrack inventory system will take time to implement to all university organizations.  As departments migrate to RFTrack, we will provide you with the new RFID tags for both capital and noncapital equipment, and non-RFID black barcode tags for assets that may be inventoried using the RFID Scanners.
In order to improve the ability and distance of the scanner to read the asset in RFTrack, there are two different types of RFID tags for metal and non-metal type surfaces.  It is estimated that 75% of your assets will use the metal surface type tags.
The CAPITAL ASSETS, $5,000 or greater, will continue to use the red tag format as follows:

The NONCAPITAL ASSETS, $3,000-$4,999, will use a yellow tag format as follows for the mandatory assets to inventory.

The Property Accounting Office can also help you determine the placement of these tags on your assets so that the scanner can read them more easily.
For questions regarding the red capital equipment tags please call Pamela Day at 801-585-6969.  For questions regarding the yellow noncapital asset RFID tags please call Paula Monaco 801-581-8673.  For other general questions please call Robin Love at 801-581-3973 or Mark Hamilton at 801-213-1401.