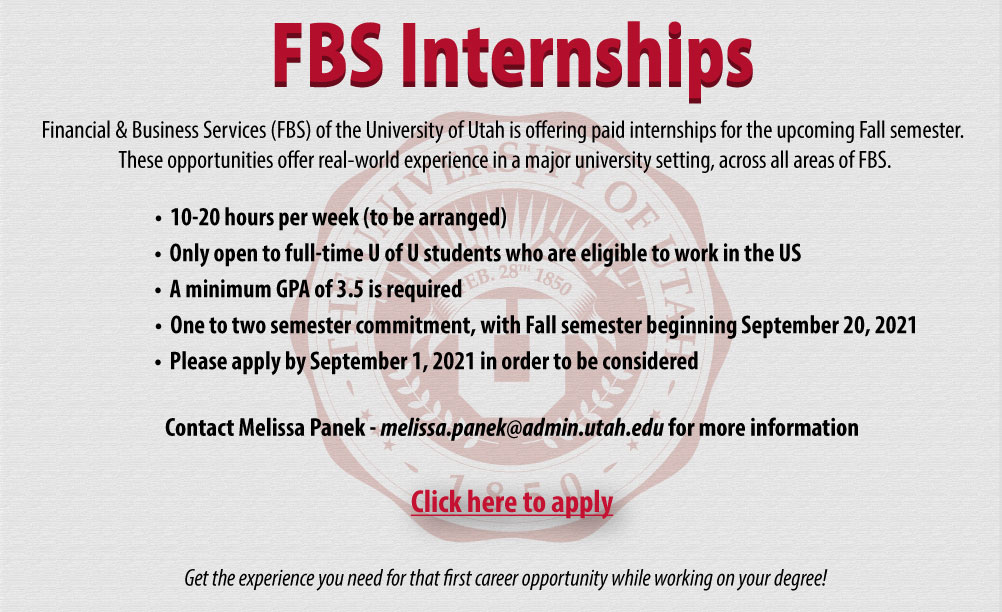 ---
Applications will be screened the week of 9/6, and interviews conducted that week. FS internships for the fall will begin the week of 9/20 and continue through the end of the Fall semester.
These internships are open to any major relevant to the work done in FS.  Preference is for undergraduate juniors or seniors.  A minimum cumulative GPA of 3.5 is required.
Internships are open only to University of Utah students enrolled full time in the semester for which they are applying.

Proficiency with Microsoft Office products including Word, Excel, and PowerPoint is necessary.
Benefits:
Projects will depend on FS' needs as well as the Intern's major and area of interest.  Examples of projects include:
Benchmarking other universities to compare services, policies, programs, etc. with those offered by the University of Utah

Analysis of financial information across the University to identify trends and recommend changes

Development of change management, communication, and training strategy from a decentralized to a centralized approach for FS initiatives

Analysis of new accounting standards and recommendations for implementation (may involve gathering relevant information and assessing the materiality and impact)

Development of a shared services model for certain financial functions

Assessment of the use of paper and wet signatures in various processes involving an analysis of various digital options.  Includes development of a decision tree that can be used to guide a cohesive approach for the future.

Development of a prototype database to track policy exceptions

Assist with various other projects
These are paid positions ($20/hr) that provide meaningful experience to supplement your education. When applying, please highlight one or two of the above projects and discuss, briefly, your interest and how those projects would enhance your education at the University of Utah. These positions do not provide University credit. 
A formal presentation to appropriate University staff will be required at the conclusion of the internship. An internship may encompass one or more projects depending on the scope. FS will, at its sole discretion, determine how many interns are needed for a semester; the allocation and assignment of projects to intern(s); and may have interns work as teams or as individuals. Interns report directly to the Associate Vice President of Financial and Business Services and will have space available to them in the Park Building. Day-to-day direction may be provided by other FS staff members depending on the project.