PAM is underway
The University's executive leadership supports Project Administration and Management (PAM). PAM goals are:
Providing high quality support to researchers
Facilitating and enabling the growth of research
Evoking a culture of compliance, and
Providing timely and accurate data to support better planning, analysis and decision making.
Visit PAM website for updated information.
Why is it needed?
The University secured over $400 million dollars in sponsored award funding in fiscal year 2012 and has approximately 3,200active awards from federal, non-federal and industry sponsors. Additionally, Utah has seen an incredible increase in award expenditures – a 43% increase since fiscal year 2007 – but the infrastructure to support such growth needs to be updated.
PAM Orientation for Principal Investigators and Business Officers
Click here for outline of the training session.
• Jan 14, 10:00 am-12:00 noon, Skaggs Auditorium in the College of Pharmacy
• Jan 15, 9:00 am -11:00 am, Union Saltair Room
PAM Successes/Changes to Date
Posting of Accounts Receivable- Grants and Contracts Accounting has begun booking Accounts Receivable and recognizing revenue on all new and outstanding invoices, except letters of credit. In the past, we recognized revenue when we received the funds. As of March 2012, we are recognizing revenue when the invoice is prepared.  Learn more here
Payroll Encumbrances – Payroll encumbrances can now be projected through future years on research projects, and will be updated daily to reflect mid-pay period changes to employee distributions. Learn more here
Effort Distribution Report – In Progress – This electronic information will display employee's quarter to date effort earnings and percentages, distribution chartfield as well as other pertinent information and allow calculation of projected changes as well as staging for in quarter payroll reallocations. This report is scheduled to be available January 2013. Benefits will be up to date effort information without having to wait for a PAR providing the ability to more timely book payroll adjustments, giving the principal investigator and management a more complete financial picture for grant management and spending decisions and reducing the risk of missed billing opportunities.
University's Financial Statements
I invite you to review the tangible measures of the University's financial strength and vitality in the 2012 fiscal year audited financial statements. Learn more here
We have gone paperless!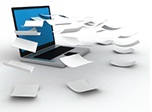 Learn about Electronic Management Reports here.

Please ASK US if you have any questions.