UTravel Home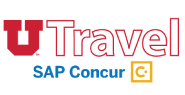 ---
UTravel is the new and improved travel system for the University of Utah. In order to use this system, you will need to attend an in-person training course.
In UTravel, you are able to book domestic flights only. In order to book international or group trips, please use our Onsite Travel Agency by following the link below.
---
---
Questions about UTravel? Ask us here!
---
---
When using UTravel, you will encounter different fees than you would with the Legacy Travel System: