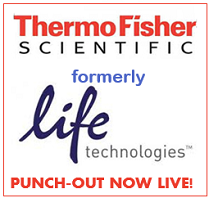 UShop has been working with ThermoFisher/Life Technologies and together we are pleased to announce their incorporation into our procurement system. This is the first UShop partnership that integrates both direct orders and on-campus supply centers. The punchout to the ThermoFisher/Life Technologies website is located in the shopping showcase listed as Punch-Out Catalogs with Contract Pricing.
ThermoFisher/Life Technologies brands (Invitrogen, Applied Biosystems, Pierce, eBioscience, Affymetrix, Gibco, and more) provide some of the most cited and trusted products in the life sciences. Many of these products will be offered at deeply discounted prices through UShop for both direct and supply center orders.
Here are some highlights of this partnership:
Automatic discounts on 100,000+ products
50% off all PCR machines through June
20% off most antibodies & ELISAs from Invitrogen, Pierce, and eBio.
30% off most DNA & RNA purification kits
35% off most SYBR and Taqman Master Mixes or 50% off the purchase of 2+.
Up to 75% off tissue culture reagents
Access through UShop to 6 supply centers located on campus with hundreds of stocked products
Free Shipping on the majority of non-stocked items purchased through a supply center
Please see the attached punch out quick reference guide for detailed ordering instructions.
Contact Josh Romney, ThermoFisher/Life Technologies sales representative, for further information regarding UShop or help with products and pricing. He can be reached by email, phone, or in person. Phone: 801-209-8579 Email: josh.romney@thermofisher.com

Thermo Fisher Scientific Inc. is the world leader in serving science. Our mission is to enable our customers to make the world healthier, cleaner and safer. We help our customers accelerate life sciences research, solve complex analytical challenges, improve patient diagnostics and increase laboratory productivity. Through our premier brands – Invitrogen, Applied Biosystems and Thermo Scientific– we offer an unmatched combination of innovative technologies, purchasing convenience and comprehensive support.